Terrazzo Tiles, a Star Material for Home Decor
There has been speculation as to whether or not terrazzo tiles have gone out of style, but several interior designers keep praising the material. In fact, designers continue to expand the use of terrazzo—a composite material traditionally featuring a medley of marble chips—from floor and wall tiles to furniture and prints, as described in an article by Vogue. The material has also been in the spotlight at a recent design fair held in New York, in a top luxury resort in Ho Tram, Vietnam, and in the latest collection of a long-standing ceramic manufacturer, which developed a new technology for making terrazzo floor tiles for urban use more water-proof and durable.
MIPA (Manifattura Italiana Pavimenti Artistici) collaborated with Studio Charlie and recently presented the MONOMATERIA collection that consisted of home and decor items made with terrazzo tiles at the Boutique Design New York Expo (BDNY) held in New York City last November 13 – 14, 2022. Bong Tiles finished its project for the luxurious Hamptons Ho Tram and provided the resort with handmade terrazzo tiles in various forms and shapes that exude elegance and luxury that encapsulated the resort's vibe and aspiration. Spanish ceramics manufacturer Mosaics Planas, presented their new i Series collection that included terrazzo slabs made with the latest technology developed by the company, rendering their terrazzo floor tiles more resistant to UV and water.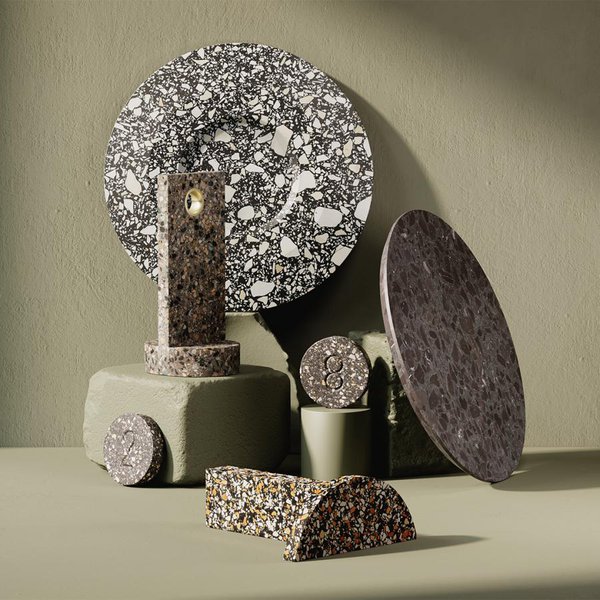 MONOMATERIA Collection by MIPA x StudioCharlie. Courtesy of the brands.
MIPA Presents the MONOMATERIA Collection
Terrazzo tiles made their way into the homeware arena with Italy-based ceramic tiles manufacturer MIPA (Manifattura Italiana Pavimenti Artistici) having recently presented their MONOMATERIA collection at the Boutique Design New York Expo (BDNY). The new collection of homeware made with terrazzo tiles from MIPA marks an important entry for the firm in the giftware sector and is the result of an in-depth study on the artisanal design of the object and typography, made possible by collaborating with StudioCharlie which offers an approach of discovery and analysis of the material used.
Key pieces from the MONOTERIA collection include the Pianeti Immaginari, a centerpiece that was intended to be a representation of a celestial painting seen through a telescope, which is available in black and white, and the Numeri paperweight inspired by rock graffiti and has engravings that enhance the craftsmanship, thickness and weight of the material. The Numeri earned an honorable mention at the XX Compasso d'Oro ADI.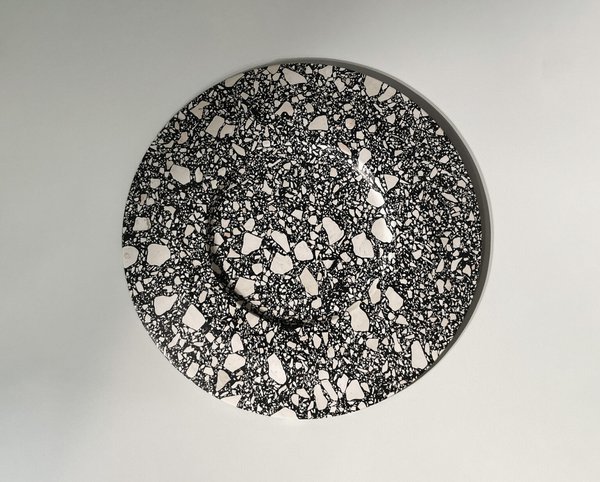 Plate. Courtesy of the brands.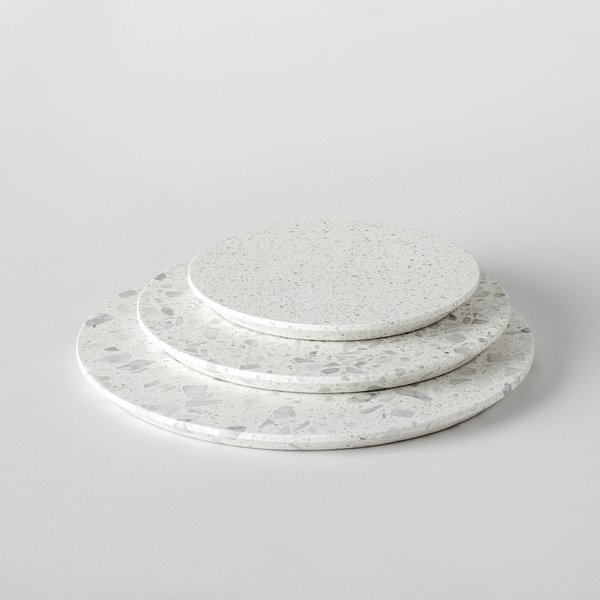 Trivets. Courtesy of the brands.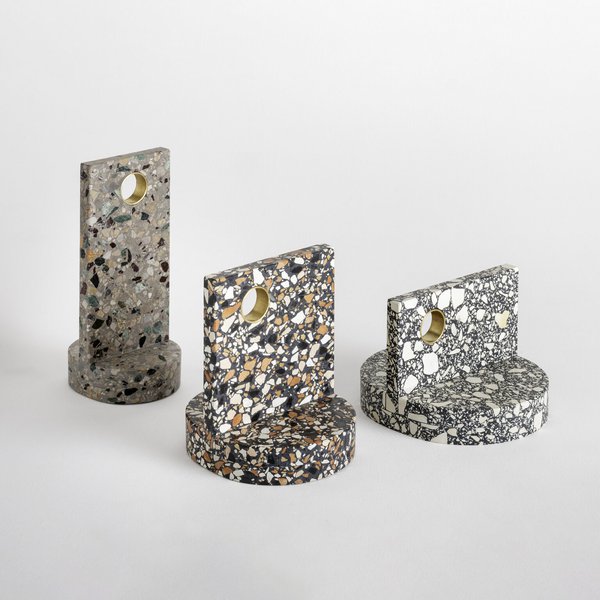 Paperweights. Courtesy of the brands.
Handmade Terrazzo Tile Flooring from Bong Tiles at the Hamptons Ho Tram
With a factory based in central Vietnam, Bong Tiles specializes in the production and supply of a variety of handmade terrazzo tile flooring and have recently finished a project with the luxurious Hamptons Ho Tram Resort in Vietnam which showcases artisan terrazzo tiles from Bong Tiles in various areas of the resort. The terrazzo tile flooring that can be seen at the resort comes from their new Terrazzo Handmade Cement Tiles Series. The products have surfaces made of colorful small granite stones which make them more attractive and very close to granite stone but with a lower cost. The terrazzo tile flooring used at the resort includes a combination of the following: Tiles BT157-1, Tiles BT154-4, Tiles BT154-3, Tiles BT135-3, Tiles BT156-1, Tiles B503-12 and the Encaustic Handmade Cement Tiles B503-12.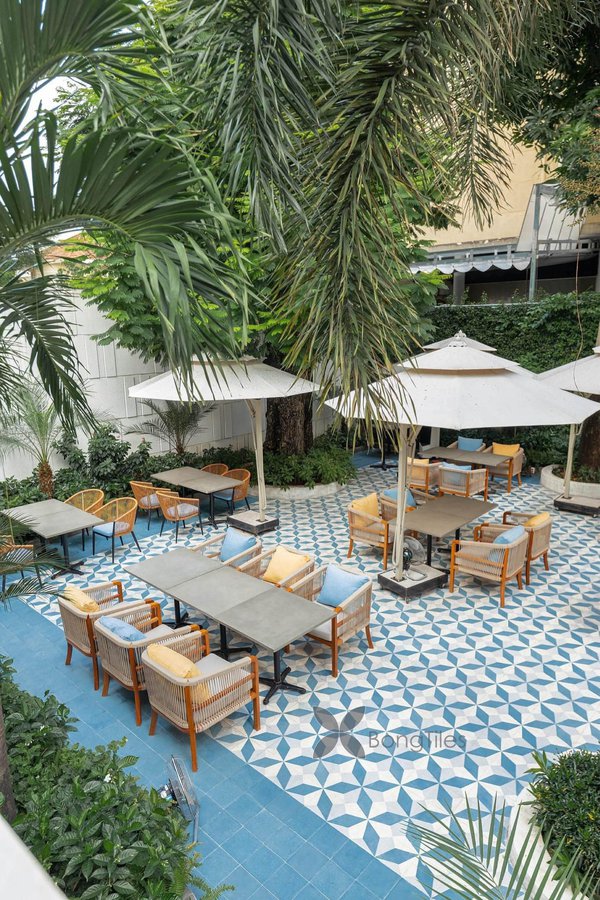 Courtesy of Bong Tiles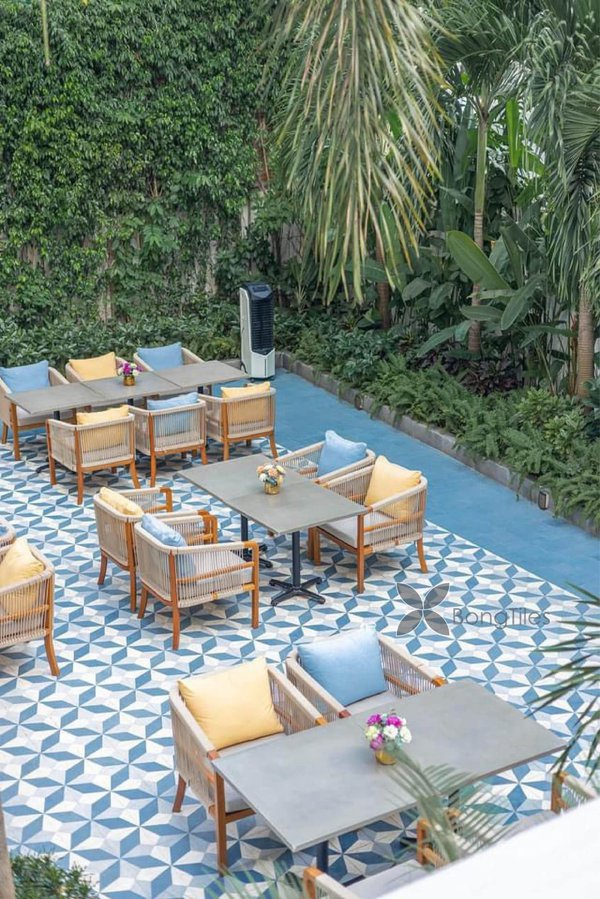 Courtesy of Bong Tiles
Mosaics Planas New i Series Collection for 2022
The i Series from ceramic manufacturing firm Mosaics Planas is the latest collection from the firm based in Girona, Spain, which has been producing terrazzo floor tiles and ceramics for many years. The terrazzo tiles in the i Series collection were manufactured with ceramic oxides added to mass that give a surface tension that protects porous supports. The use of the latest technology involves the change of properties of matter at the nanometer scale which provides greater catalyst capacity, a tunable wavelength, better resistance, conductivity and elasticity. The terrazzo tiles from the i Series collection are waterproof and cannot be altered by UV rays, water or air, which makes them ideal and durable to be used in outdoor settings. The terrazzo tiles in the i Series are also protected from external agents like oil or coffee that can stain the pieces.

5.jpg
Terrazzo Tiles in 2023
Terrazzo tiles fit perfectly with the rise in preference for home construction materials made of recycled materials they're manufactured from a combination of recycled and locally sourced natural stone or marble chips set into pigmented cement. If you want to use terrazzo tiles for your projects, check out new collections of terrazzo tiles from the upcoming ceramic fairs in 2023 that include: Cevisama happening on February 27 to March 3, 2023, in Spain, CERAMIC Network in France, and CERAMITEC in Germany. And if you are looking for terrazzo tiles for sale or for terrazzo tiles for your home, check out ArchiExpo's Guide in Choosing Tiles and explore various tile designers and projects from the ArchiExpo showroom that you can choose from.